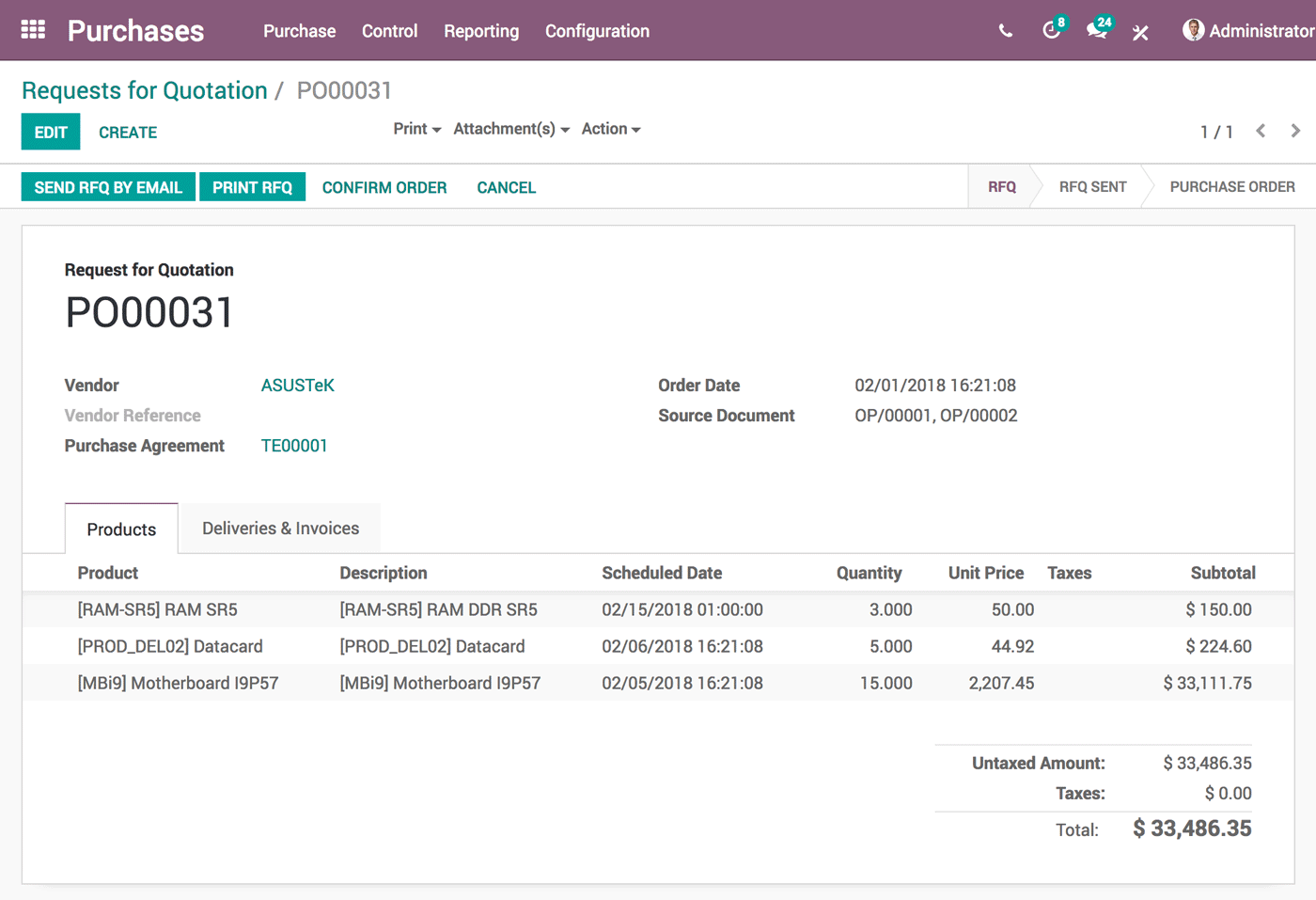 Purchases
Streamline your Operation

Easily manage suppliers & purchase orders

Improve your supply chain & inventory performance

Automate your purchasing workflow.

Automatically send RfQs to your suppliersbased on your stocks levels

Improve your purchase and inventory performance with procurement rules depending on stock levels, logistic rules, sales orders, forecast manufacturing orders, etc.

Select different supply methods for each product depending on your manufacturing and delivery strategies.

Supplier price lists & product availability

Make smart purchase decisions using the best prices.

Get the best procurement offers with procurement tenders and negotiating with several vendors.

Get statistics on your purchases

Analyze, forecast and efficiently plan your orders

Save more time by manage multi companies.
Inventory
Maximize your warehouse efficiency

Modern online warehouse management software.

Improve performance & process time

Better organize your warehouse with the smart inventory system.

Manage less stock, no stock outs with fully automated replenishment.

Use order points and automated RFQs to make our supply chain more efficient than ever.

Advanced features made simple

Use cutting-edge automation and advanced routes to manage any warehouse.

Experience total traceability

Track every stock move with Odoo's unique double-entry inventory system.

Clear and complete reporting

Stay in the know with real-time reports.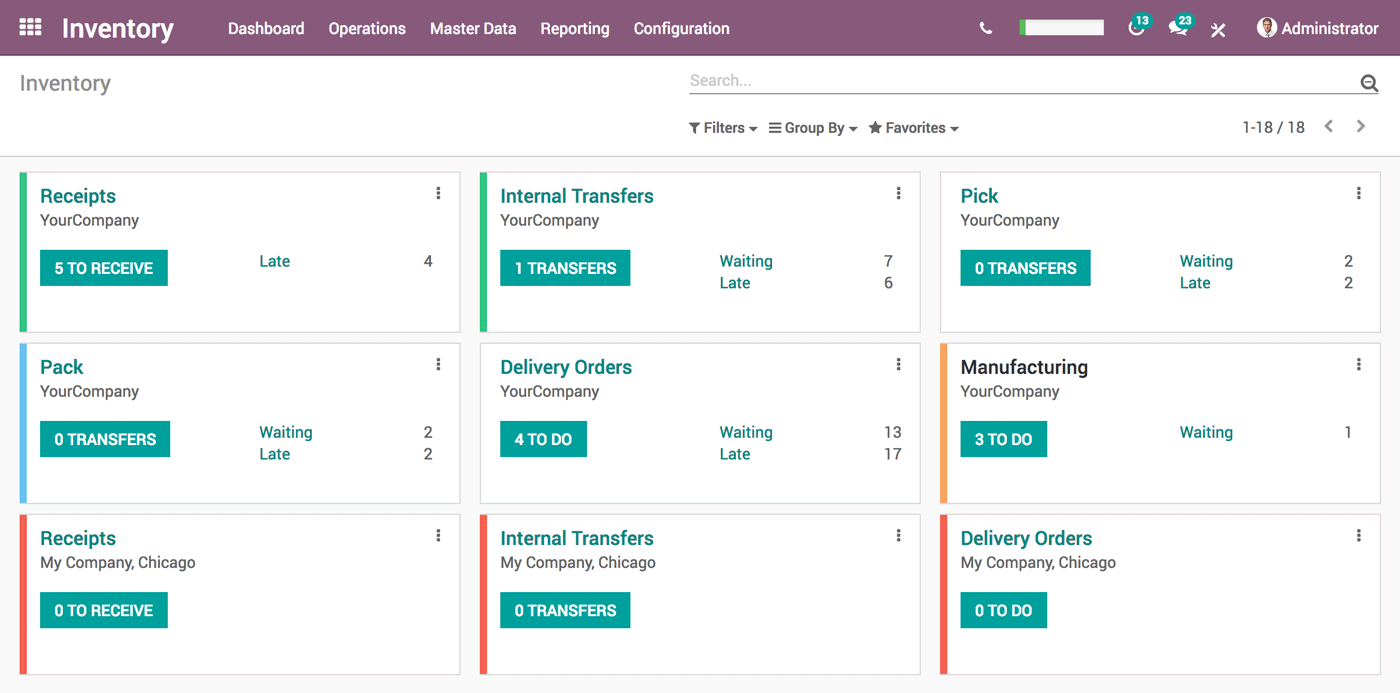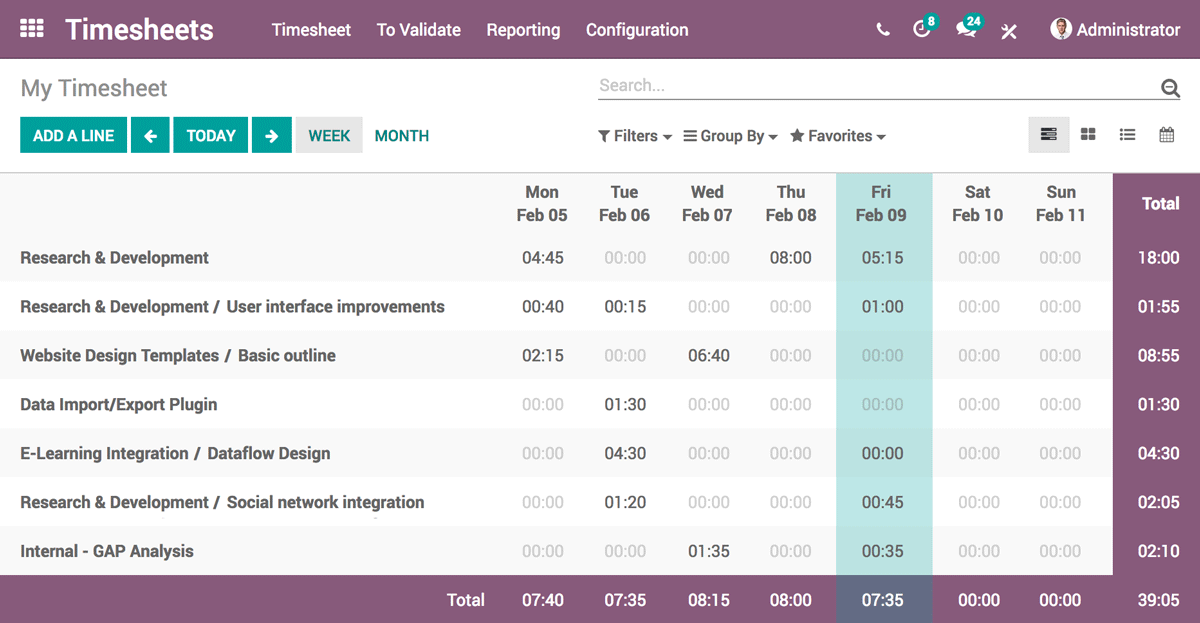 Timesheet
Track time

Forecast productivity

Get things done as fast as you can think.

Any device, anywhere, even offline.

The mobile app that works the way you do.

It supports your own workflow. Task management, time-tracking, and weekly timesheets.

Be Proactive

Every minute counts

Focus on what matters

It's fast.

Manage your activities & workforce

Keep your projects under control and manage employee time from the Odoo backend.

Track your team's progress

keep your projects profitable

Invoice timesheets to clients
Project Management
Agile Project Management

Beautiful. Easy. Open Source.

Modern interface

What you need, the way you like it

Organize... A simple drag-and-drop view to help you easily group tasks at the right stage.

Schedule .. Easily check your team's planning and reschedule to keep within your deadlines.

Plan .. Keep track of deadlines and progress of your projects with a clear overview.

Analyze .. Keep a good overview of your workload and of the status of individual tasks.

Forecast needs & resources

Project performance & employees' availability

Visual information usage

Flexible project management software that makes it easy.

Discuss tasks .. Share documents

Conceptualize project scope within an easy-to-read overview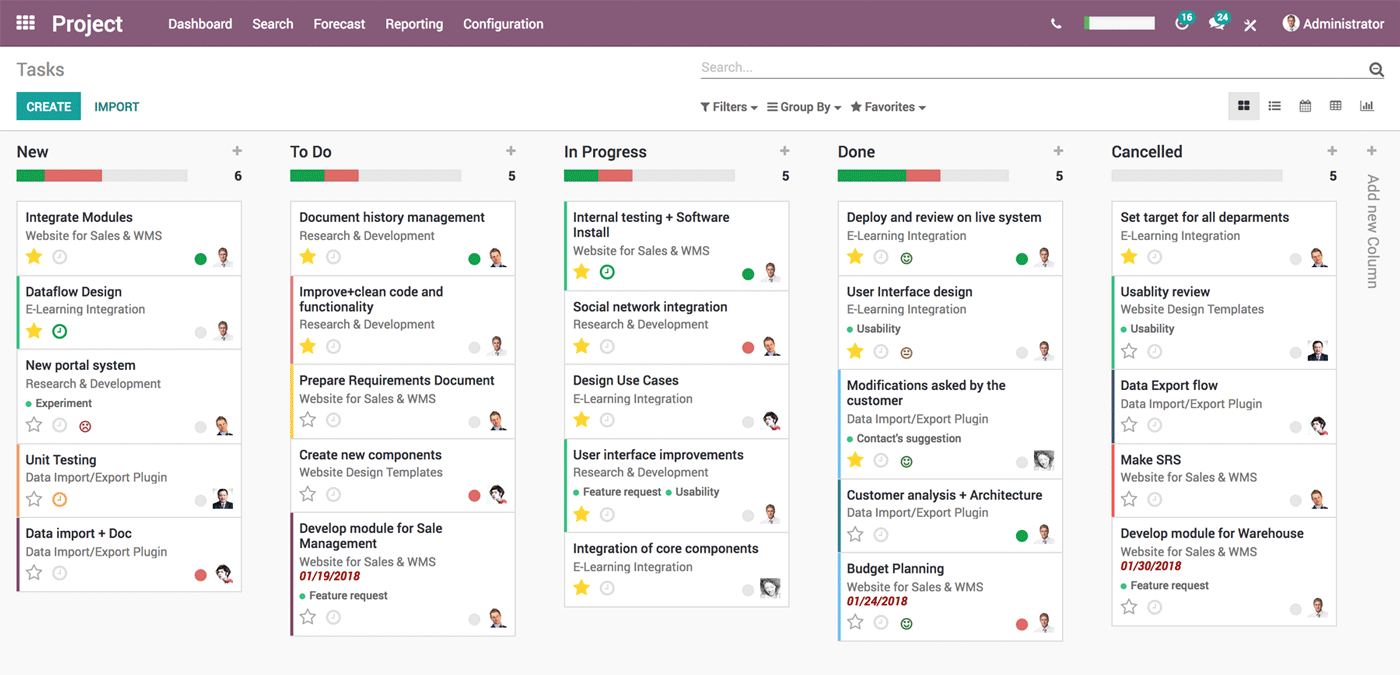 Helpdesk
Agile Helpdesk

For great customer service.

Awesome user interface .. Track, prioritize, and solve customer tickets.

Multi Channels, Out-of-the-box ..

Get in touch with your customers where they are ( Email - Website Form – Twitter - Live Chat )

Optimized for productivity .. SLAs, Automation, Templates, and Canned Responses.

Sell support contracts .. New contracts and renewal maintenance contracts with ease.

Provide smarter self-service .. Based on the customer database.