Recruitment
Simplify application management

Hiring Processes Made Easy

From the sourcing to the contract, handle your recruitment process easily

Manage your hiring process

Organize your vacancies job applications

Track job offers straight from the app

Track applicants, index, sort, filter, and search.

Customize your recruitment process

Define your own stages and interviewers and Create your own hiring strategies.

Integrated Surveys

Define your own online/offline surveys.
Employees
Successfully manage your employees

Centralize all your HR information.

Track time & attendance

Weekly or monthly timesheets with optional attendance tracking.

Leave management

Simplified tracking for employee vacation and sick days ( Requests -> Approve or refuse -> Notifications sent ).

Streamlined expense management

Get expenses updated and approved fast.

Employee evaluation made easy

Thorough evaluations without the hassle.

Recruit top talents

Streamline your hiring process.

Boost engagement with social tools

Improve communication between employees and motivate them through rewards.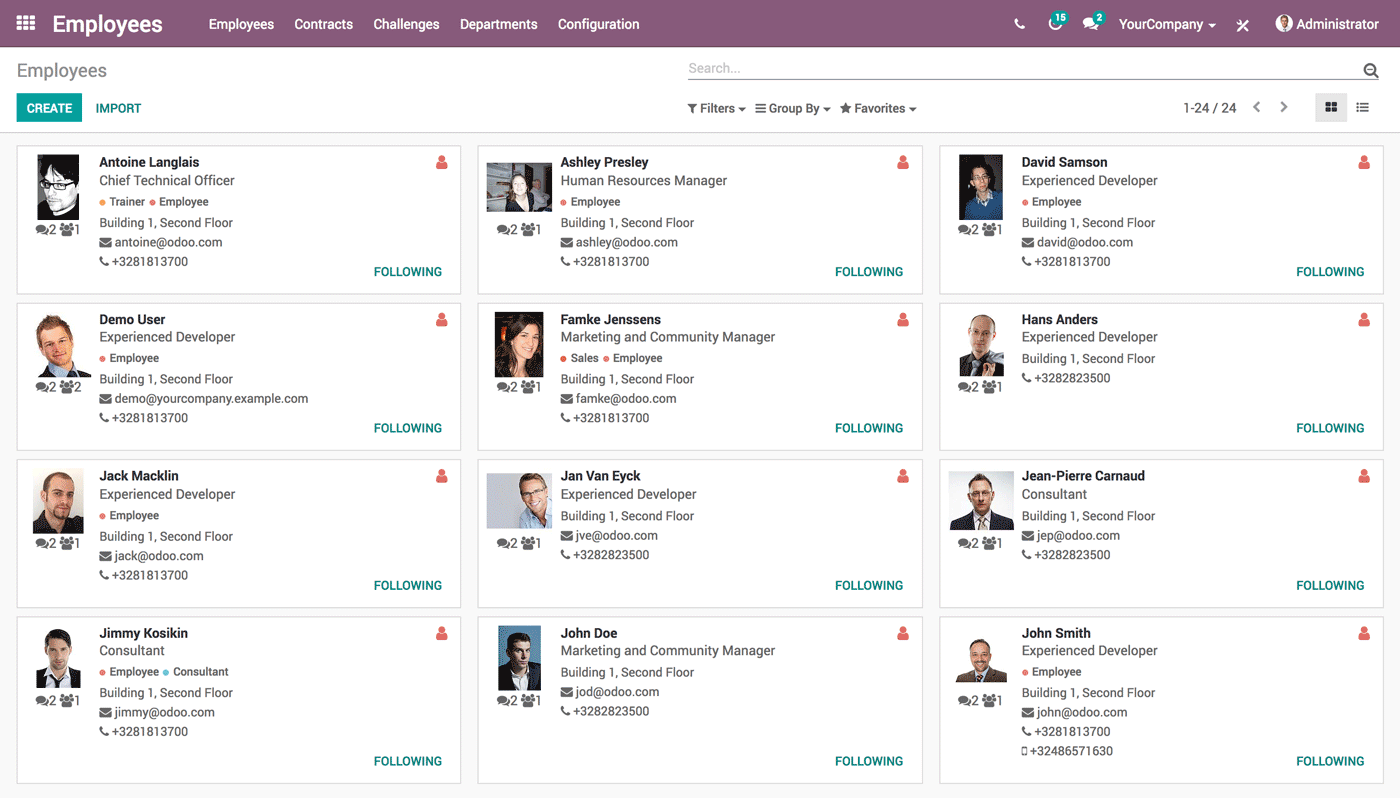 Leaves
Manage vacations & absence

Keep track of all your employees vacations, all in just a few clicks.

Complete view of team leaves.

Keep the team well-organized and to easily forecast the distribution of tasks during members leaves.

Approve or refuse leave requests

Handle all requests from your employees

Get reports to plan ahead

Simple reporting tools.
Appraisal
Manage employee evaluations and create appraisals in minutes

Set up periodical employee evaluation

Strengthen your company's key asset ( employees ).

Build the right appraisal

Ask the right questions and collect insightful information.

Design your own survey

Use templates or create them.

Automate the evaluation process

Make sure evaluations stick to the schedule.
Fleet
Manage your vehicles, contracts, costs, insurances, and assignments without pain.

Fleet management made easy .. You won't need any specialized tracking system for company vehicles - with Odoo's smart application.

Manage leasing and all other contracts .. Supervise all contracts for your vehicles and receive a warning email when contracts reach their expiration date.

Monitor all costs at once .. Identify and trace the money spent by your company for each of the fleet vehicles.

Analysis and reporting .. Show all costs associated with a given vehicle or with a type of service.